The crypto market has come a long way following large-scale adoptions in the past year. However, several investors are still searching for the top coins to invest for strong returns given the stiff competition in the crypto market.
This article will explore some key crypto projects that can yield good profits as 2022 starts.
1. Bitcoin (BTC)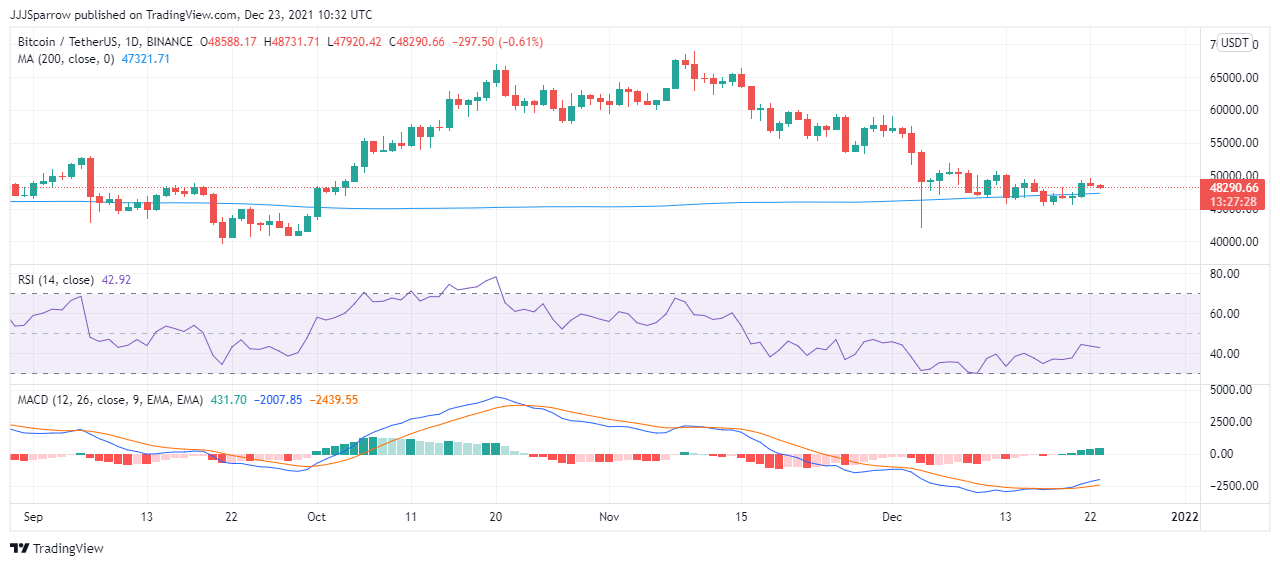 Although Bitcoin seems to have reached its apex in November 2021, the premier digital asset is still one of the best coins to invest for strong returns. Bitcoin is the preferred digital currency for several institutional investors who consider adding virtual assets to their balance book.
Given the close association with the broader crypto market, large market cap, and deflationary tendencies, Bitcoin remains a priority asset for many who seek to protect their wealth against fiat devaluation.
At press time, the crypto bellwether is in the red zone as Bitcoin is down 1.37% and is trading at $48, 290.66. The premier digital asset is on a bearish run and trades below the 20-day moving average (MA) support price of $48,403.77.
However, the long term outlook for BTC is positive as the premier digital currency is trading above the 200-day MA price of $47,321.75
In terms of fundamentals, Bitcoin has seen remarkable adoption. One such is by star actress Gwyneth Paltrow who has recently invested in Bitcoin mining firm Terawulf Inc to enable zero carbon-energy crypto mining.
Also, North American self-ming Bitcoin company Marathon Digital Holdings is taking Bitcoin and blockchain technology to the masses. In a press release, the company announced that it would be donating to the Summer of Bitcoin 2022 course which is expected to introduce Bitcoin to university students.
2. Ethereum (ETH)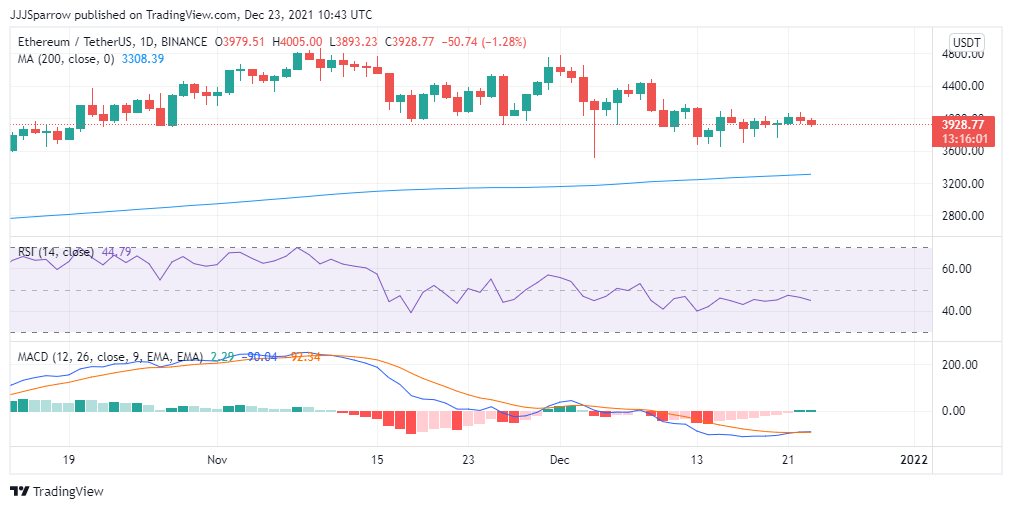 Ethereum has also been a standout star as the second most valuable digital asset has rallied a whopping 434.62% year-to-date (YTD) with a 12-month increase of 542.98%.
Despite being bugged by high gas fees and network congestion issues, the foremost smart contract network has remained the premier destination for much of the recently evolving decentralised economy.
Ethereum's sustained success largely follows a slew of major crypto market movements that have seen the likes of decentralised finance (DeFi), non-fungible tokens (NFTs), the Metaverse and other sub-sectors gaining remarkable adoption in the past year.
The foremost altcoin rode on this precedent and hit an all-time high (ATH) of nearly $5000 in a November run of form. Pegged with 21.02% of the global crypto market, Ethereum is considered a pivotal blockchain protocol towards the revolution of the entire financial landscape as we know it.
At press time, ETH is trading at $39, 28.77, down 2.07% in the last 24 hours and is soaring above its 200-day MA support price of $3308.44. Ethereum is one of the best coins to invest for strong returns.
The decentralised applications (dApp) facilitator is currently working on a new consensus algorithm which is expected to make it more scalable, greener, and cost-effective.
To that end, Ethereum has launched Kintsugi testnet, which is a way of merging the current proof-of-work (PoW) protocol with the Beacon Chain to test the viability of the new proof-of-stake (PoS) protocol in the coming year.
3. Solana (SOL)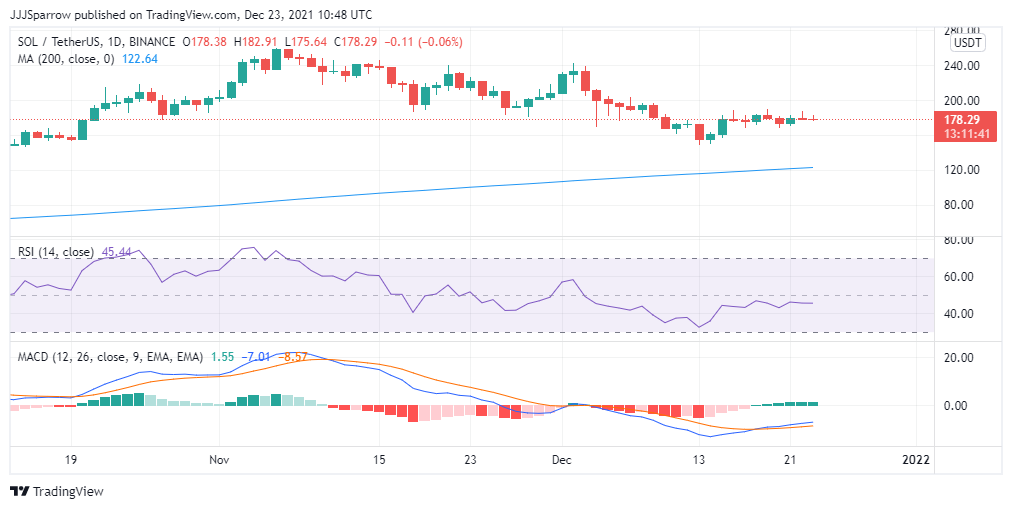 Solana has had a breakout year as its protocol has seen remarkable growth in this current crypto window. With high performance, scalable, and cost-efficient protocol, Solana is one of the best coins to invest for strong returns.
The protocol averages a minimum of 50,000 transactions per speed (TPS), with users paying less than a dollar in utilising the blockchain platform.
In a year of exponential DeFi growth, Solana has also attracted several NFT projects into its ecosystem, with a major partnership with popular centralised Bitcoin exchange FTX crowning their efforts.
In this same spirit of breaking milestones, the first Solana live multiplayer game Mini Royale recently hit 2 million monthly active users. NFT avatars have been thrown into the mix to sweeten the deal. The Solana NFT ecosystem is also rapidly expanding largely due to the network's low cost and high transaction output.
Solana has sped up the global crypto ranks and is currently the 5th most valuable crypto asset by market cap. At press time, SOL is trading at $178.29 and is down 2.87%, with a weekly gain decline of 0.50%. SOL has seen a whopping 11760.28% gain YTD following a run of form to a record high of $260.06 in early November.
4. Cardano (ADA)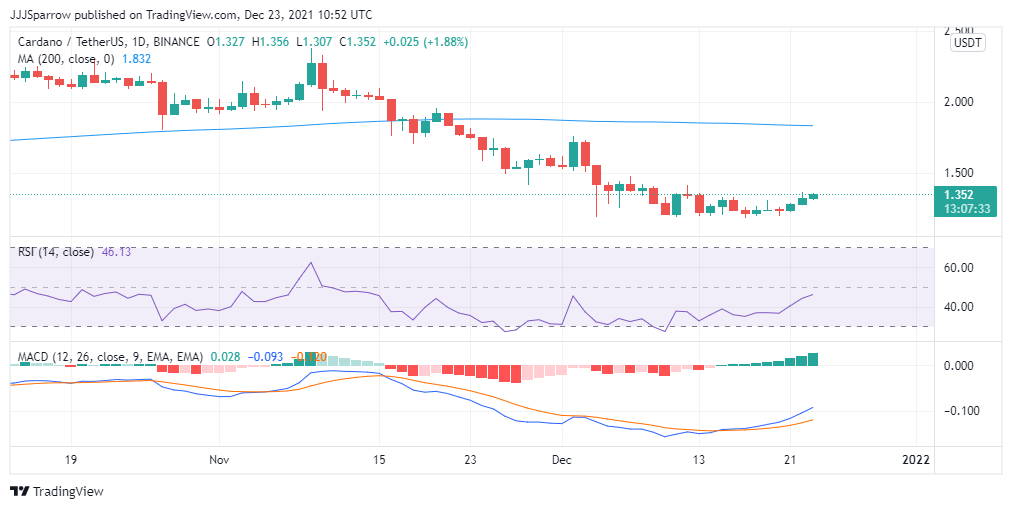 Cardano is a peer-reviewed blockchain protocol that offers the trio of security, scalability, and interoperability. Currently under development, Cardano is one of the best coins to invest for strong returns given its value proposition.
At the core, Cardano runs on a PoS protocol called Ouroboros where transactions are divided into epochs. This makes the third-generation protocol highly energy-efficient while also enabling minimal fees in using the protocol.
With no stated TPS in the framework, Cardano is expected to average a base minimum of 1,000,000 transaction speed once the Hydra upgrade is complete.
Cardano has largely remained under the spotlight for several investors, but the Ethereum rival's growth fundamentally cannot be swept under the carpet.
Hundreds of dApps have silently launched on the Cardano ecosystem in the past months. In a Github post, development arm Input Output Hong Kong (IOHK) gave a summary of some of the projects currently building on its ecosystem. Price-wise, Cardano is trading at a discount of $1.352, up 4.39% on the daily chart.
5. Avalanche (AVAX)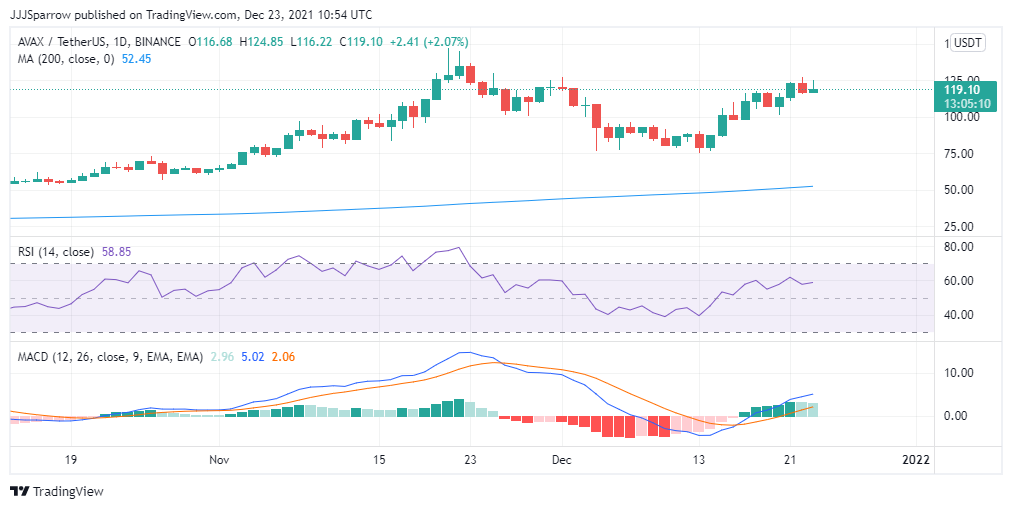 Avalanche has sped up the crypto ladder and is currently the 10th most valuable crypto asset by market cap. Also focused on the burgeoning DeFi and NFT ecosystems, Avalanche offers speed, lower cost, and high interoperability between other blockchain protocols.
The Avalanche protocol currently trades at $119.10%, down 3.97% in the past day. Weekly gains stand at 14.75%, announcing a strong end-of-the-year performance in the bag.
Avalanche started gaining traction late, but the DeFi protocol has already snapped up a 36.27.05% YTD increase so far. The asset also has strong fundamentals backing its success. One such is the recent expansion of inSure DeFi into the Avalanche ecosystem.
Read more: