Non-Fungible Tokens (NFTs) have become one of the most talked-about digital assets in 2021, prompting investors to search for the best NFTs to invest in for high profits.
As the crypto market and blockchain technology continue to gain major traction, NFTs have been standout performers, carving a niche for themselves.
This article examines the best NFTs to invest in for high profit.
1. The Sandbox (SAND)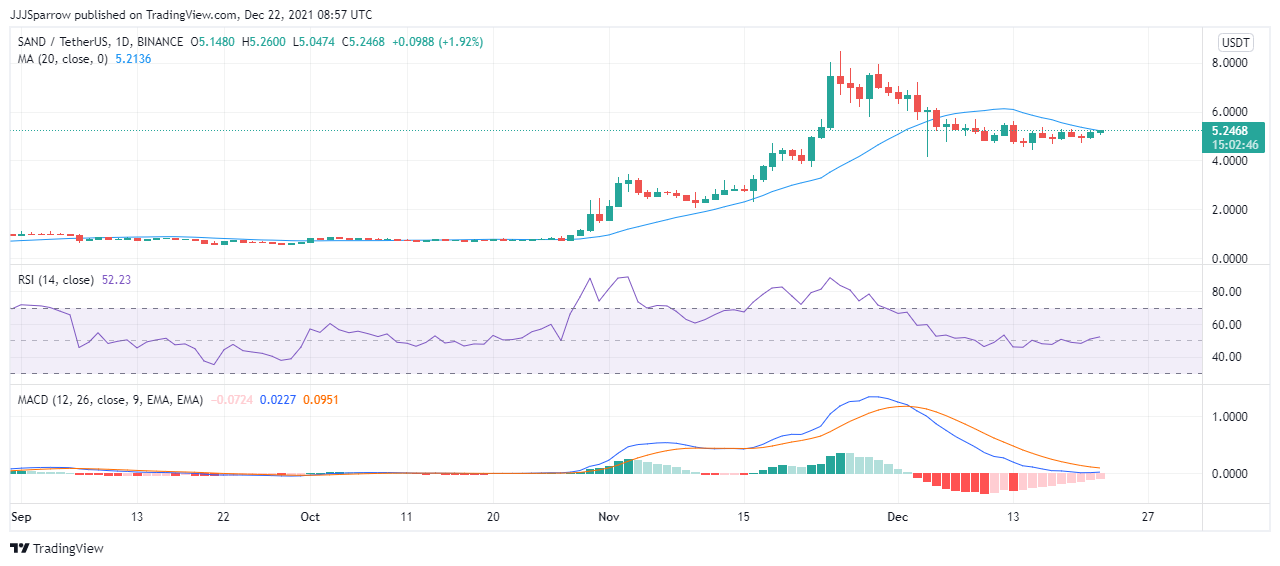 The Sandbox allows users to create, design, build, buy and sell digital assets on the platform. There is also an opportunity for users to design their custom-made in-game assets that can be sold within and outside the game.
The Sandbox is out to revolutionise the gaming industry with blockchain technology. The "play-to-earn" game mode that the Sandbox employs makes it unique, exciting and encourages players to participate in the games because there are rewards in addition to having fun while playing the games.
Adidas recently announced a partnership deal with The Sandbox. This announcement is coming on the back of an agreement Adidas had reached with Coinbase as the sports brand looks to tap into the metaverse.
At press time, utility token SAND is trading at $5.24, up 3.14% in the last 24 hours and up 7.35% in the last 7 days.
2. Decentraland (MANA)

Decentraland has enjoyed a stellar 2021, making the Ethereum-powered token one of the best NFTs to invest in for high gains.
The metaverse token has notched up an impressive price gain of 4,068.34% year-to-date (YTD) and soared 3753.19% in the last one year.
The digital asset is currently trading at $3.36, up 3.79% in the last 24 hours. MANA has gained 5.66% on weekly margins in the last 7 days.
Decentraland is also trading above the 200-day moving average (MA) support price of $1.5089, indicating that the ERC-20 token is on a bullish run. Like The Sandbox, Decentraland is another platform where users can express their creativity and monetise content and applications.
Decentraland has virtual estates for sale. Users can purchase and build on their virtual plots of land. These pieces of digital land are in high demand because they introduce users to a whole new experience, ranging from three dimensional (3D) games, amazing and captivating scenes, and many other fun and interactive games.
Late last month, the Metaverse Group, a subsidiary of Tokens.com, purchased a piece of Decentraland's virtual estate for about 618,000 MANA (estimated to be worth $2.4 million at the time of purchase). The purchase is one of many virtual lands that Decentraland has sold in recent times.
3. Theta (THETA)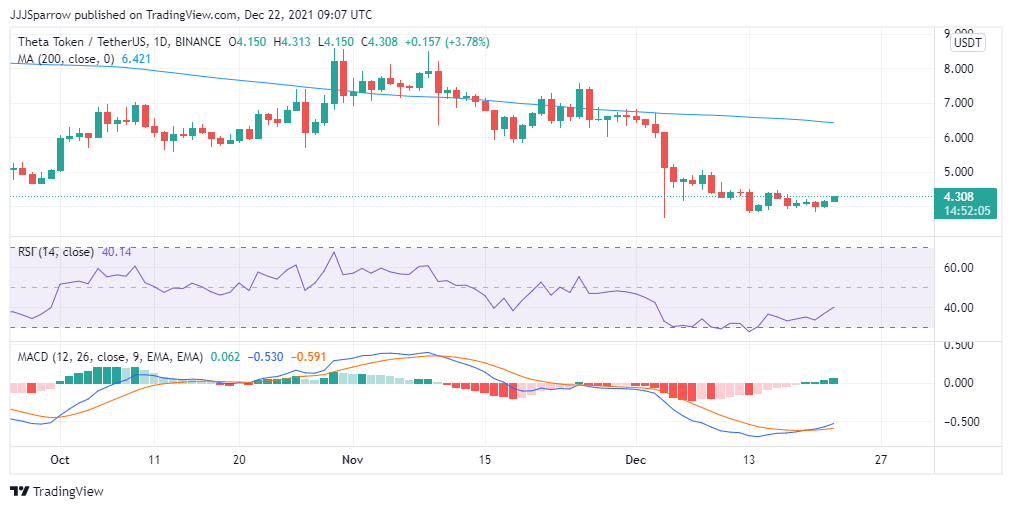 Since its launch in March 2019, THETA has continued to gain momentum, rallying by an outstanding 277.01% in the last year and establishing itself as one of the best NFTs to invest in for high profits in December.
Theta (THETA) is a network protocol specially built for video streaming. The decentralised network allows users to share bandwidth and several other computing resources via the peer-to-peer (P2P) route.
THETA, the native token of the protocol, is used for various governance tasks within the network. The protocol has some big industry players as validators on its network. Popular firms like Google, Binance, Blockchain ventures, Sony Europe and Samsung are some of the validators on its community-run nodes.
The developers of the network protocol plan to bring disruptive innovation to the video streaming industry. They aim to do this by providing solutions to problems like centralisation, high costs, and a poor end-user experience.
THETA's plans include providing viewers with impeccable quality streaming services. Others involve content creators earning more for all their efforts and helping video platforms reduce the cost of building infrastructure, thereby increasing their revenue from advertising and subscription.
At the time of review, THETA is trading at $4.308, up 5.10% in the last 24 hours and up 4.14% in the last 7 days. THETA has a market cap of $4.31 billion, up 5.30% in the last 24 hours.
The video streaming service recently partnered with Junkin Media for NFTs.
4. Enjin Coin (ENJ)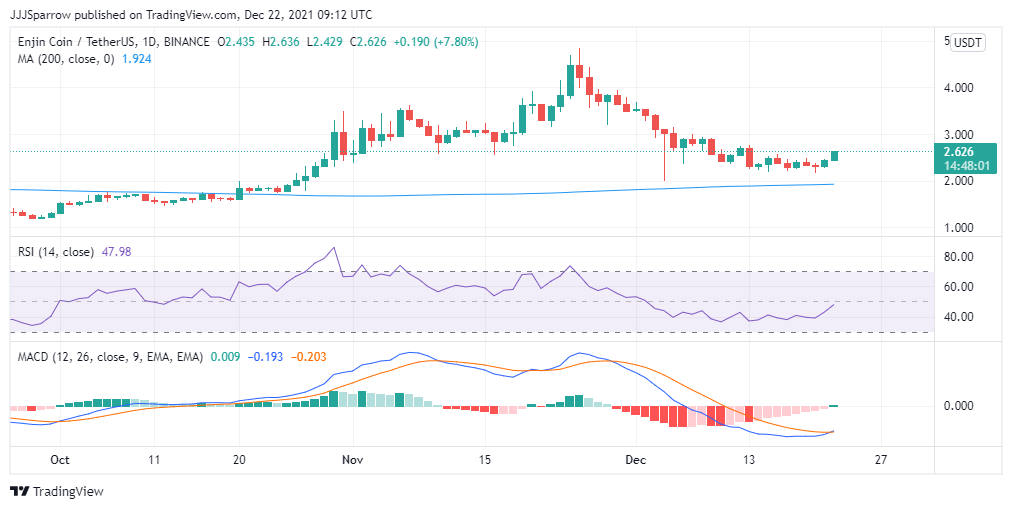 Enjin Coin has been a revelation this year, which makes the token take a place on the list of the best NFTs to invest in for high profits this year.
Enjin Coin (ENJ) is a digital store of value that backs up all the digital assets produced on the blockchain. Game developers can tokenise their in-game digital collectibles like guns, grenades, and many others.
These digital collectibles can be bought, sold, and redeemed for real-world value. They are first converted to ENJ before being traded for any fiat currency that the seller wants.
A new blockchain combat game, Contaverse, that allows users to design, nurture, and battle using their own lovable robot NFTs has launched on the Enjin network.
As blockchain gaming projects continue to generate interest and gain traction, this new addition to the Enjin network will likely make Enjin coin see a price rally very soon.
Players of this game will collect non-fungible tokens (NFT), play virtual conquest, build their own customised NFTs, and be exposed to a great gaming experience.
This is why Enjin coin is one of the best NFTs to invest in for high profits in December.
Enjin coin is trading at $2.626, up 9.90% in the last 24 hours and up 10.23% in the last 7 days. Enjin coin has gained 1925.89% year-to-date (YTD) and 2054.39% in the last 1 year.
5. Axie Infinity (AXS)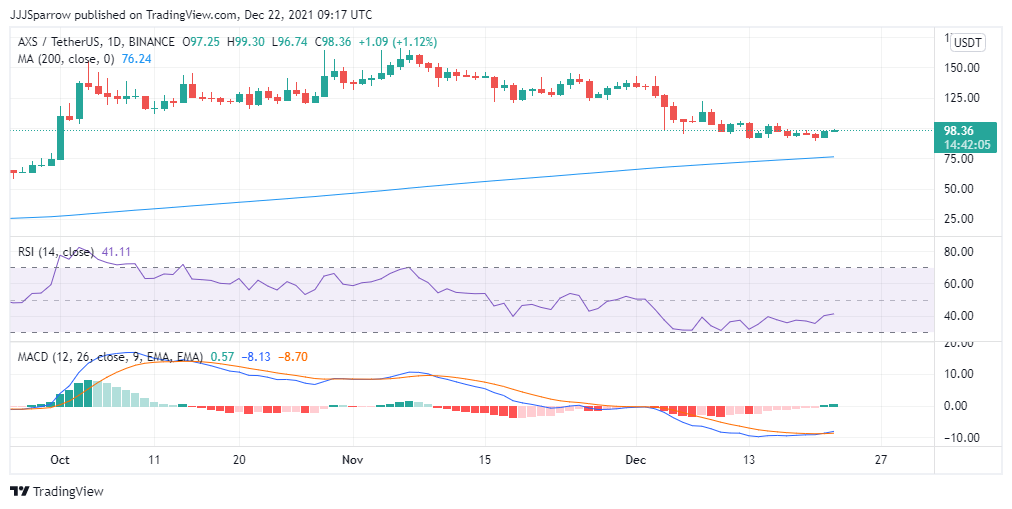 Axie Infinity is one of the crypto assets that has seen a lot of inflow of funds from investors, making it one of the best NFTs to invest in for high profits in December.
AXS has over 5.8 billion in market cap. The Pokémon-inspired game has risen by 14,535.86% in the last 1 year and 17719.09% year-to-date (YTD) respectively.
At press time, AXS is trading at $98.36, up 2.90% in the last 24 hours and up 0.81% in the past week.
Developers of Axie Infinity last week announced a reduction in the breeding prices of Axies (the in-game pets) to 0.5 AXS. This announcement is great news for the Axie community members because they can now breed more Axies for much less price.
Furthermore, a rare piece of virtual land on Axies known as the "Genesis plot" was sold out for a whopping 550 Ethereum, approximately more than $2.48 million at the time of the sale.
Read more: