The crypto market continues to make dips, and with most coins headed towards lower lows, any slight gains have been wiped out. Decentraland had attempted to make a breakout during the past day, but the bearish trend across the market prevented this. After holding the green zone for several days, it has since retreated to the red zone.
Decentraland is trading at $3.39 at the time of writing after a 2.2% dip in 24 hours.
Decentraland price analysis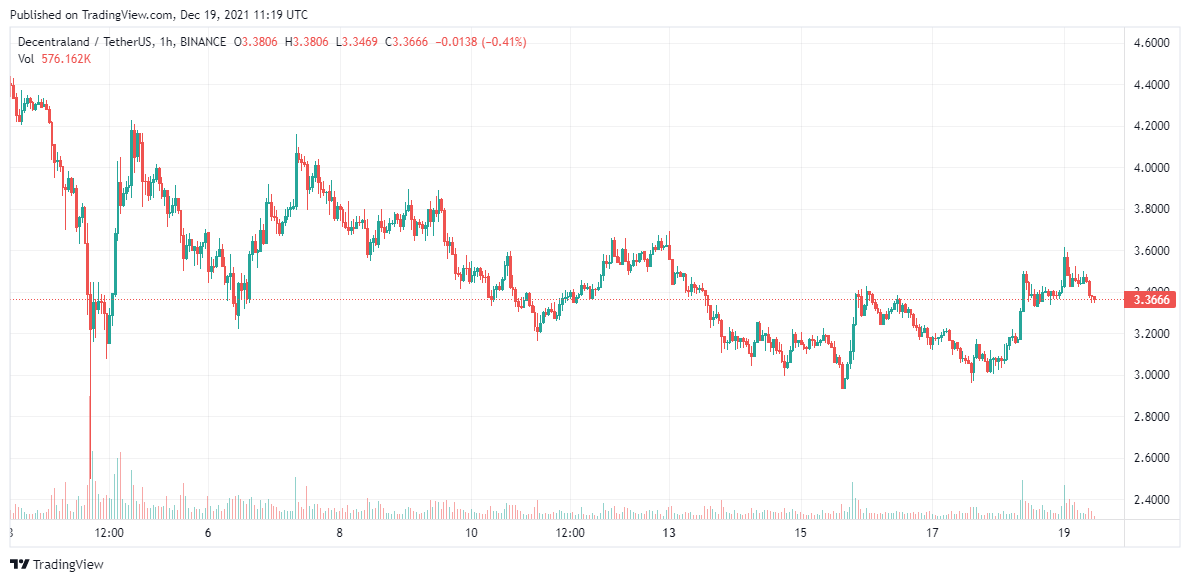 MANA has been trying to recover during the past few days, but the token has dipped slightly after giving in to the overall bearish pressure. While it is yet to wipe out all the weekly gains, the lack of buying support could trigger further dips.
If MANA continues with its price dip, it could be headed towards the lower levels of $3.20. This is a critical support level, which could contribute to further bulls for the coin if maintained. Maintaining its price above $3.20 could attract buyers if the rest of the market recovers from its bearish trend.
There could also be a price recovery on the upper side if the buyer support kicks in again. in this case, the altcoin could be headed towards the upper resistance at $3.45. If the coin gains past $3.50, it could attract much buyer support to set the next target at above $3.60.
The broader market also has an integral role in whether or not MANA makes gains or losses. Therefore, a bullish rally will be triggered when buyers jump back into the market, creating a case for the coin to move back to its all-time highs.
MANA made some bullish gains after Decentraland announced signing a partnership with Stephen Curry, an NBA champion. The partnership also involved Under Armour, the main sponsor of Curry.
While details regarding this partnership are yet to be shared, MANA remains one of the market's leading metaverse coins. This partnership could be related to a development on the Decentraland virtual land, triggering major gains for MANA.
Where to buy MANA
To buy MANA during the current dip, you can create a cryptocurrency exchange account on eToro. eToro is one of the leading exchange platforms, and it supports a variety of user-friendly features such as copy trading and low trading fees. It also supports a wide range of cryptocurrencies and trading pairs.
Your capital is at risk.
Read more: