The decentralised exchange (DEX) ecosystem has grown in tandem with the broader crypto market and decentralised finance (DeFi). If you are an investor looking for some of the top DEX coins to buy for high profits, this article should come in handy.
1. UniSwap (UNI)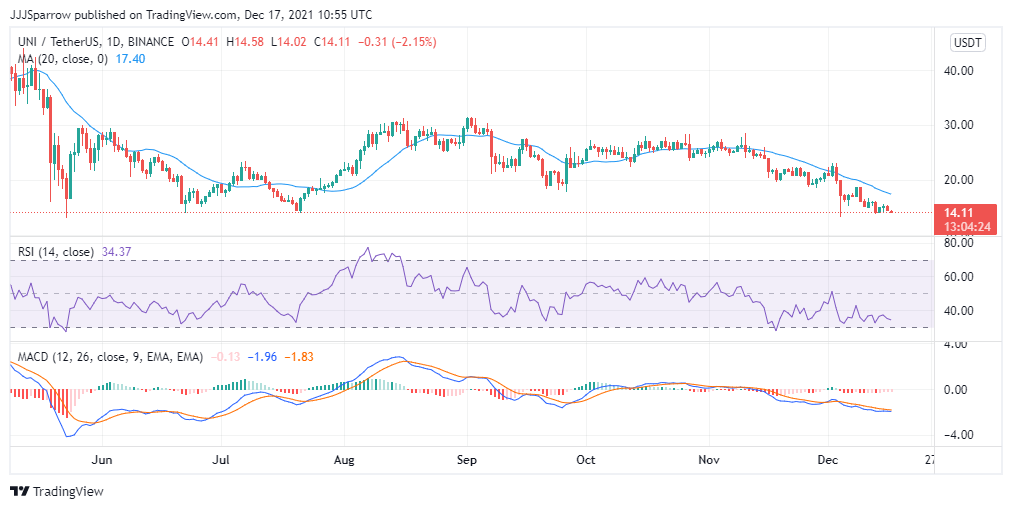 UniSwap has remained one of the top DEX coins to buy for high profits despite seeing tough competition from many new entrants into the DEX field.
UniSwap originally started off as a DEX platform that enabled the seamless swap of two ERC-20 tokens. The DEX has evolved into a major player in this currently DeFi-driven economy.
The automated market maker (AMM) protocol is the most popular DEX and has amassed a whopping $500 billion in cumulative trading volume. The platform's pivotal role in the future of finance has seen the Ethereum-based protocol launch versions 2 and 3 in the last few months.
UniSwap has continued to remain integral and the newly launched UniSwap V3 recorded a new 24-hour trading volume with $4.8 billion traded on December 6 with a weekly boost of over $21 billion.
Not resting on its laurels, the UniSwap platform recently partnered with blockchain company Other Internet to improve community governance.
With a remarkable all-time high (ATH) of $44.92 in early May, UniSwap's governance token has also felt the impact of the bears and has dipped 66.6% from its ATH. This sees the ERC-20 token currently trading at $14.11, down 5.88% in the last 24 hours.
Year-to-date (YTD) increase of 175.14% shows that the UNI token has come a long way in the past year and presents a greater opportunity for the coming months.
2. SushiSwap (SUSHI)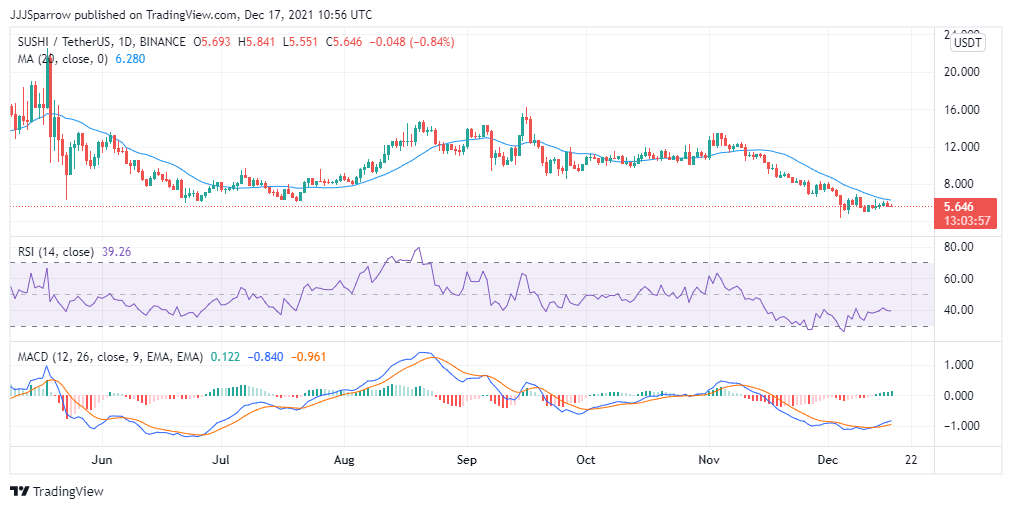 SushiSwap operates as a carbon copy of UniSwap and aims to present a better DEX experience for DeFi investors and users alike. However, the UniSwap killer has not been trouble-free within its ranks.
Meanwhile, the Ethereum protocol is still one of the top DEX coins to buy for high profits given its strong community and popularity.
Also an automated market maker (AMM) to boot, SushiSwap seeks to address the liquidity issues which has largely made the DeFi ecosystem unfavourable to investors. SushiSwap enables the swap of two DeFi tokens.
SushiSwap has travelled a more tumultuous path as the digital token hit an ATH of $23.38 in mid-March and has not been able to reclaim its high price peg since then.
The current price peg of $5.646 shows that SUSHI has dipped 74.5% from its record high while making it an attractive investment for many DeFi investors.
However, the digital token is down 4.82.% on the daily trading chart, but with an impressive 100.78% in the past year.
In terms of fundamentals, SushiSwap has dealt with more internal issues by making some external partnerships in recent weeks. Given this, a new forum proposal in the past few days aims to end the loss of core developers and team leads.
Labeled SGP-0, the proposal is geared towards reorganising Sushi's governance and operations. The proposal, if implemented, will lead to the creation of a decentralised autonomous organisation (DAO) and arrest the challenges around the project.
3. PancakeSwap (CAKE)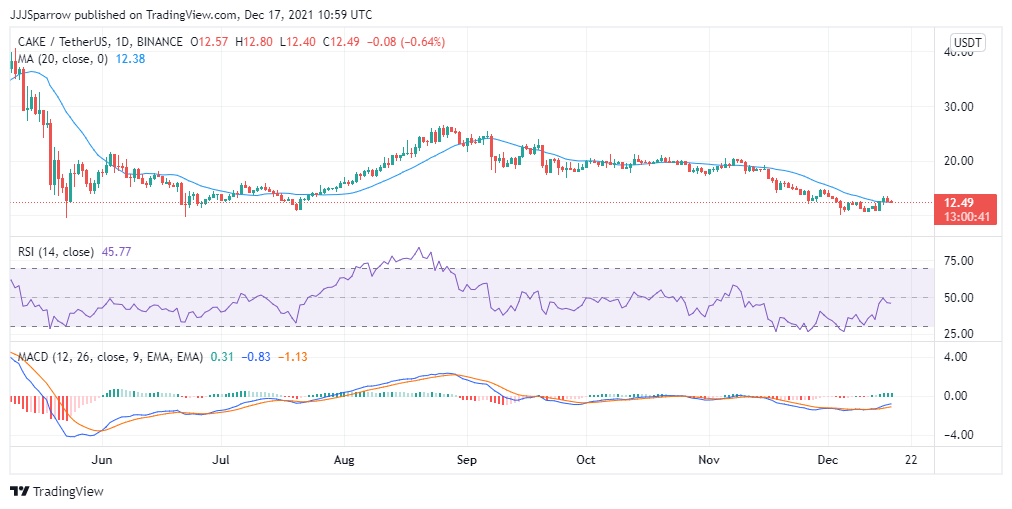 PancakeSwap is a multi-faceted AMM protocol and one of the top DEX coins to buy for high profits. Also seeking to arrest the liquidity crises in the DeFi sub-sector, PancakeSwap enables the exchange of DeFi tokens.
Although not based on rival blockchain ecosystem Binance Smart Chain (BSC), PancakeSwap has largely grown to become the first billion-dollar project on the BSC project.
The protocol's success largely lies in the low fees users enjoy compared to Ethereum-based protocols like UniSwap.
PancakeSwap also boasts one of the most comprehensive DEX offerings with yield farming opportunities, staking pools, lottery tickets, and most recently added support for non-fungible tokens (NFTs).
With such a strong list of offerings, PancakeSwap currently trades at $12.49, down 4.44% in the last 24 hours. However, the BEP-20 token is one of the most attractive DEX coins in the market for such a low price.
Fundamental-wise, PancakeSwap has been one of the most innovative DEX platforms out there in the spirit of the Binance ecosystem.
Given this, the PancakeSwap DEX has recently launched an initial farm offering (IFO) format for the PancakeSwap community and CAKE holders.
4. Serum (SRM)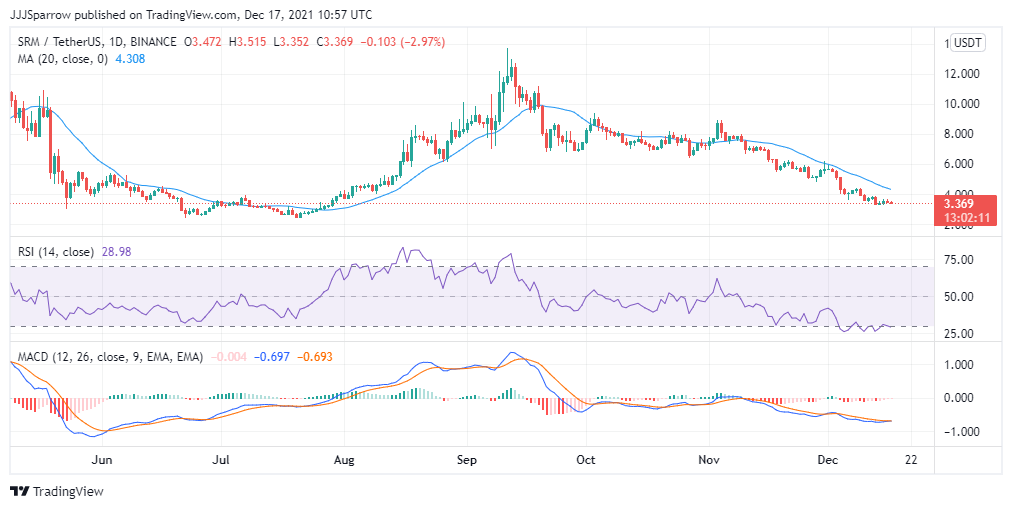 Although the Ethereum network controls a large chunk of the DeFi ecosystem, other robust networks are already fledgling out a strong DeFi presence in the last couple of months.
One of such is the Serum DEX platform, a major offering from popular Ethereum killer Solana.
The DEX's residence on Solana shows its intentions to facilitate rapid token swaps while charging minimal fees for these transactions.
Aside from this, Serum offers its SRM token holders the ability to earn yields on their digital assets and cut down on their trading fees as much as 50% while exchanging DeFi tokens on the platform.
With Solana boasting a potential 710,000 transactions per second (TPS), many retail and institutional DeFi users are on cue to select Serum as a premier destination to do business.
Following a breakout season in mid-September when the SRM token surged to $13.78, Serum has mostly battled with the bears, but it seems the digital token is looking bullish once more. SRM is currently down 7.31% in the last 24 hours and is trading at $3.369
Serum recently partnered with NFT-focused derivatives company Bridgesplit which aims to build a liquidity stack for unique assets.
5. dYdX (dYdX)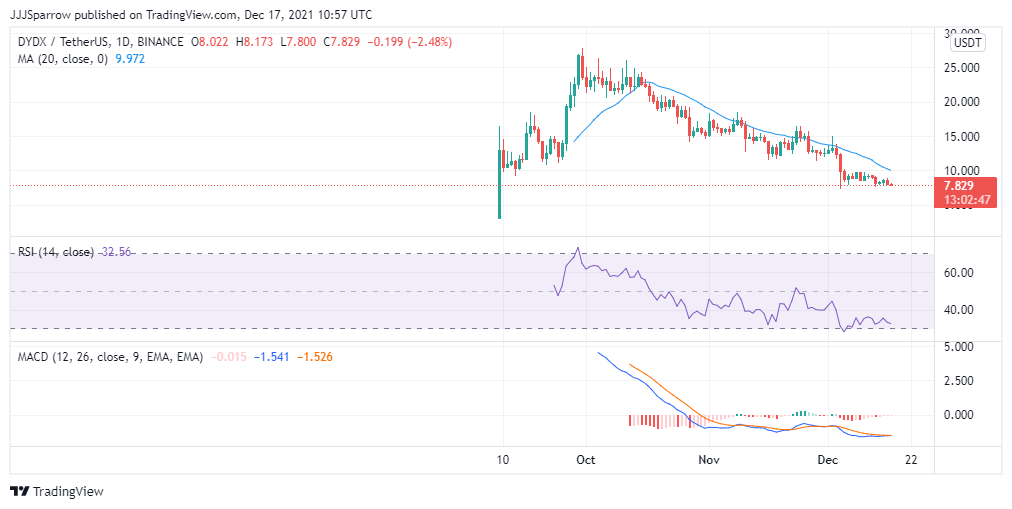 dYdX operates like a hybrid and symbiote DEX, which combines both the powers of a centralised exchange (CEX) system and a DEX.
The protocol's growing appeal among investors makes the platform one of the top DEX coins to buy for high profits.
dYdX enables the trading of margins on decentralised perpetual swaps while allowing users to stake and swap tokens easily.
Built on the Ethereum protocol, dYdX combines the security and transparency of a DEX with the speed and usability of a Centralised exchange (CEX). Users enjoy great benefits like zero gas costs, lower trading fees, and reduced minimum trade sizes.
dYdX has also enjoyed a promising year, and the ERC-20 token surged to a record high of $27.86 in late September. However, the digital token is currently trading at $7.82, down 9.62% in the last 24 hours.
The DEX platform was recently tapped by L2Beat to foster more transparency in the dYdX ecosystem.
Read more: