Non-fungible tokens (NFTs) have gained mainstream adoption in the past year. The nascent sub-sector has since recorded over $10 billion in trading volume, and several investors are searching for top NFT cryptocurrency to invest in now.
This article will explore some of the best NFTs you can invest in for the long term.
1. Decentraland (MANA)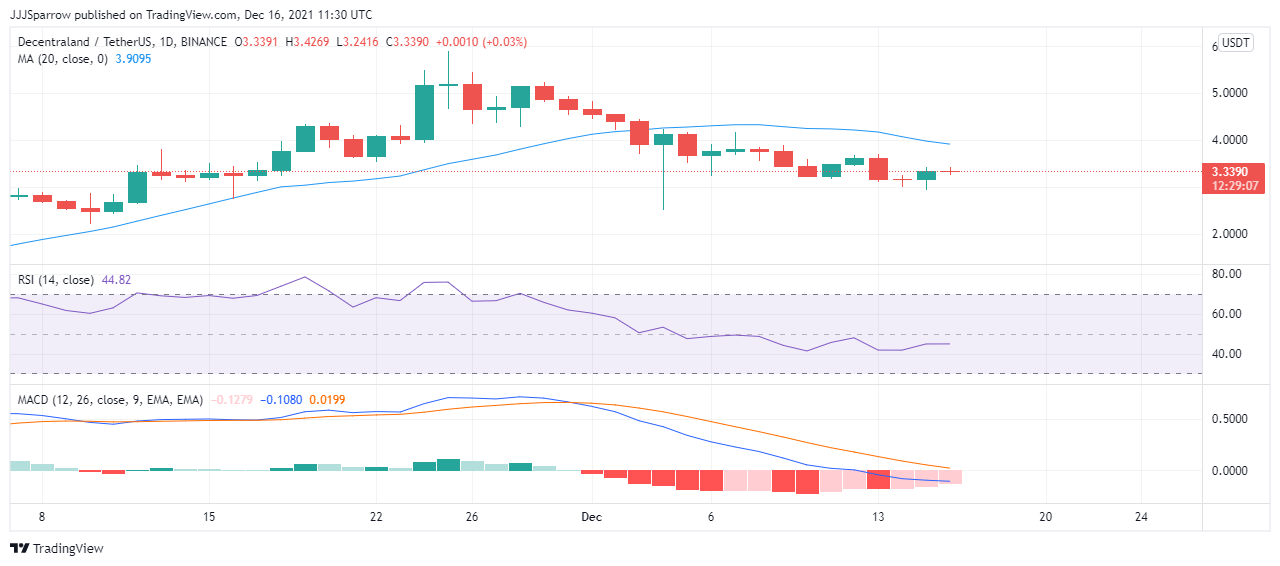 Decentraland has become the beacon in the fast-rising NFT and metaverse ecosystems. The Ethereum-based protocol focuses on 3D virtual reality experiences, enables users to create, share, and monetise virtual items.
Also catering to businesses, Decentraland facilitates the purchase of virtual plots of lands that creators and developers can build and monetise later on for huge gains.
Decentraland has become the epitome of the NFT frenzy since Facebook rebranded Meta and announced its decision to re-define its focus into the crypto space.
This announcement saw Decentraland's governance token MANA shoot up to a record high of $5.85 on November 25. The ERC-20 token has since dipped 45.6% from its all-time high (ATH) of a month prior.
Despite this, Decentraland has kept a generally bullish undertone, given that the digital token struggled to break above the $1.5 price range for most of the year.
At press time, MANA is trading at $3.33, up 7.35% in the last 24 hours. Year-to-date (YTD) increase stands at 4233.98%, and the 12-month trailing increase is at an impressive 3775.46%.
Decentraland-based RTFKT Studios have recently joined the Nike team, further boosting the platform's appeal as a top NFT cryptocurrency to invest in now.
2. The Sandbox (SAND)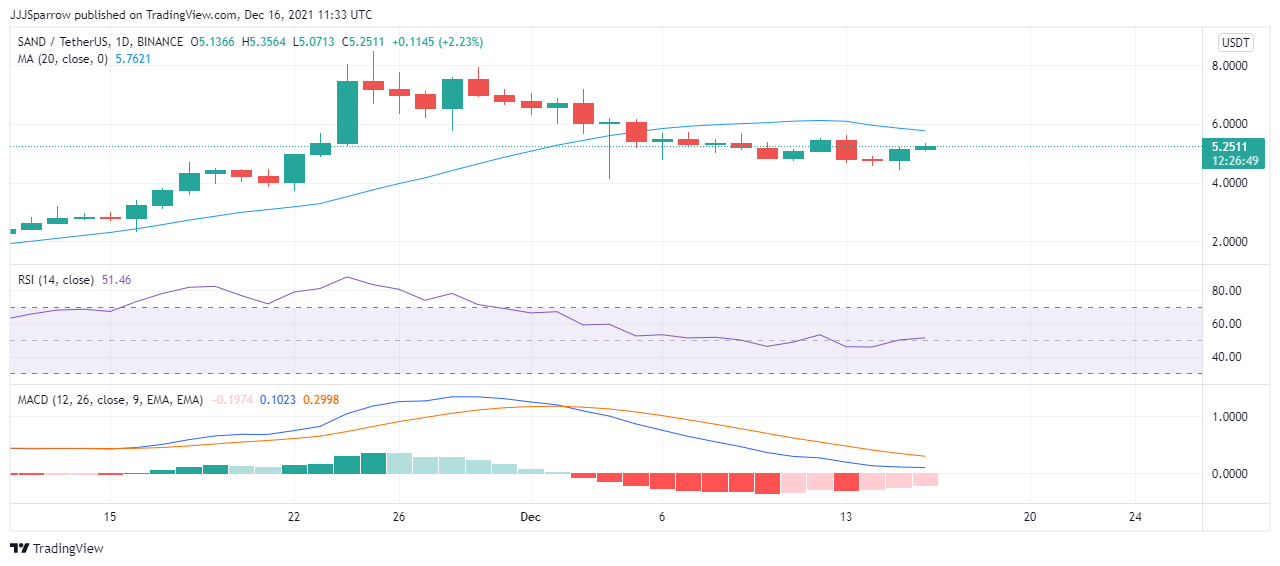 The Sandbox is another top NFT cryptocurrency to invest in now. The asset is cut out of the same stone as Decentraland. The Ethereum protocol is a voxel-rich platform that aims to revolutionise the gaming industry and how users interact with digital content.
The Sandbox features a few developers and user-friendly tools that enable anyone to create, share, and monetise in-game assets.
These include The Sandbox Game Maker, which allows the creation of 3D games for free. Also, the VoxEdit enables the animation of 3D objects while users can tap The Sandbox Marketplace to sell their digital creations.
The Sandbox, a late starter to the year, shot to blockchain prominence following Meta's foray into the NFT discourse, with SAND hitting a record figure of $8.40. SAND has lost almost 45% of its record price at press time and sits at $5.2511 down 5.11% in a largely bear climate.
As with close rival Decentraland, SAND has posted a remarkable YTD of 14659.94% so far this year. This follows strong fundamentals, with the latest being the purchase of a virtual 6 X 6 estate on The Sandbox by Uniqly for $500,000.
3. Axie Infinity (AXS)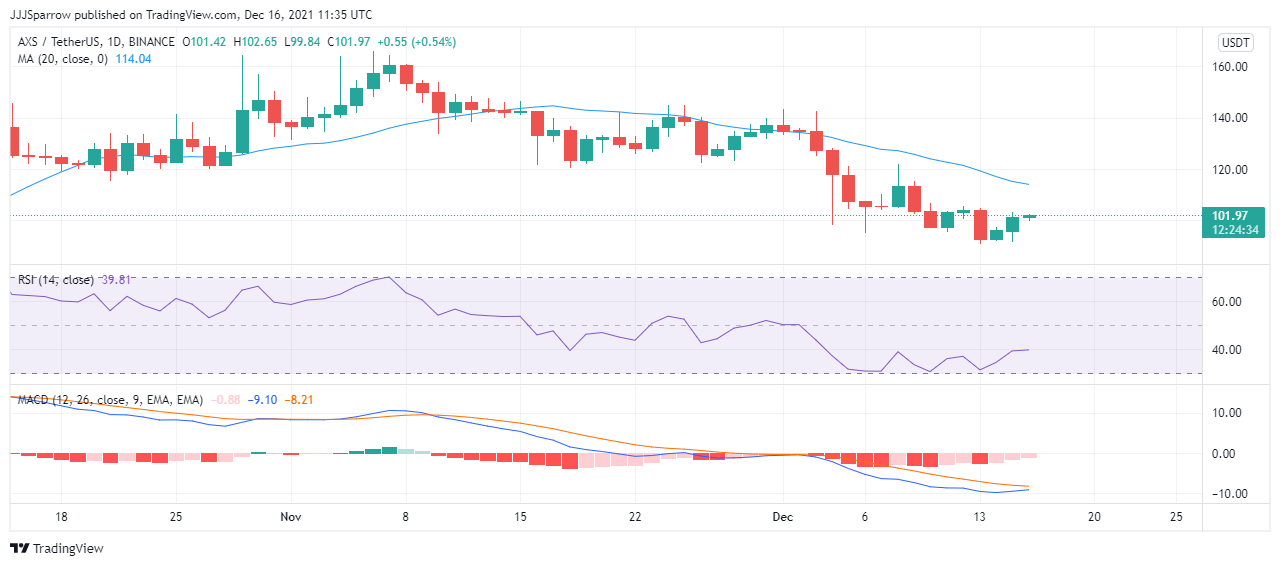 In a year of remarkable growth in blockchain-based gaming, Axie Infinity is the prize jewel for the NFT niche. A Pokemon-inspired gaming platform, Axie Infinity's phenomenal success year-to-date largely lies in the partial share gamers have in the protocol's core operations.
Alongside this, Axie Infinity is the most popular blockchain game and makes one of the top NFT cryptocurrency to invest in now.
Players get to breed, collect, battle, and then monetise in-game characters called Axies. Each Axie comes with peculiar capabilities, and players can exchange these NFTs for real cash.
Axie Infinity has largely been bullish in the run-up to the top spot on the global gaming chart. Governance token AXS remained an outlier through much of the crypto winter that characterised the second half of 2021, with the digital currency hitting an ATH of $164.90 in early November.
Although the ERC-20 token has since slipped by 40.7%, AXS has traded close to the $100 mark. At press time, AXS is trading at $101.97%, down 7.95% in the past day. YTD increase stands at an outstanding 14659.94%, with a yearly gain of 10,634.83%
Per fundamentals, Axie Infinity is not lacking as the platform is already tapping 3 million community subscribers in growth. Axie Infinity also has the highest NFT sales, per data from NFT aggregating platform DappRadar.
4. Enjin Coin (ENJ)
Enjin Coin has real-world applications and is also laser-focused on the gaming industry. Aside from aiming to revolutionise the gaming space by driving up a player-driven economy, Enjin Network enables the tokenisation and subsequent transfer of in-game assets across several platforms.
The Ethereum-based protocol also operates as a social platform where gamers and users can chat, create websites, clans, and host virtual item stores.
These virtual items can then be swapped for real-world value. The Enjin Network is closely working on enabling a new gaming society making the protocol a top NFT cryptocurrency to invest in now.
Given this, the Enjin Network is expanding into the heterogeneous network Polkadot to arrest the high gas fees inherent in the Ethereum network.
Vying for a parachain slot, Enjin's Efinity aims to become the first NFT platform to launch on the sharded network.
At press time, ENJ is trading at $2.536, down 8.90% in the last 24 hours. YTD growth stands at 14659.94%.
5. MyNeighbor Alice (ALICE)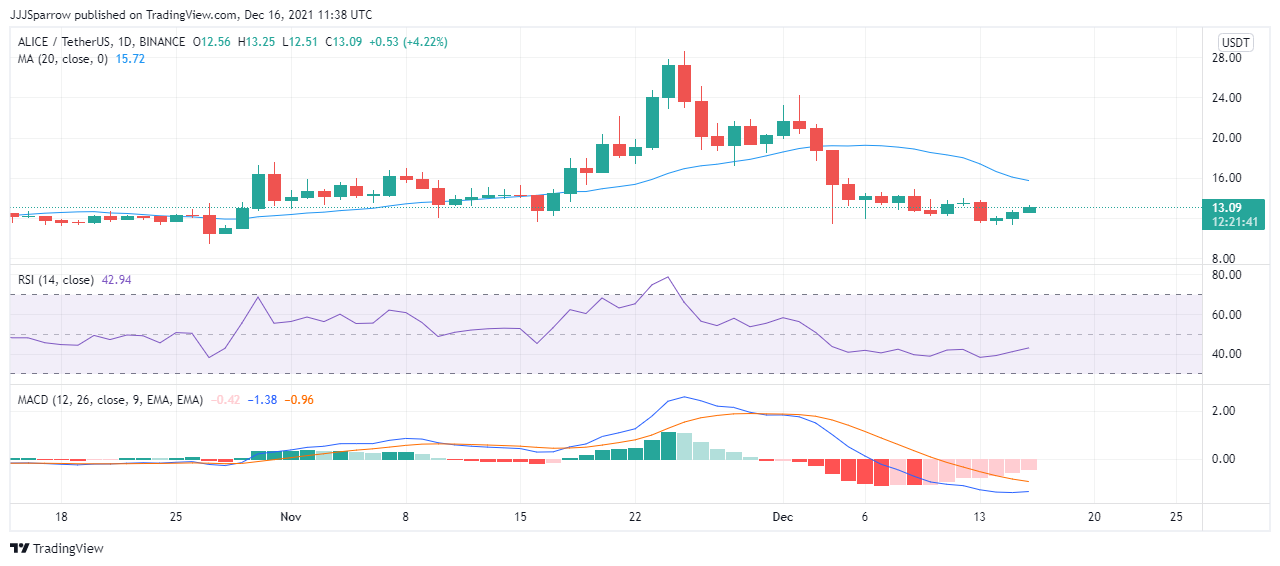 Although still under development, MyNeighbor Alice is a top NFT cryptocurrency to invest in now. The NFT-driven protocol has continued to make milestone price gains throughout this year, with the digital token hitting a record high of $40.93 in mid-March.
With such a phenomenal figure backing the project, MyNeighbor Alice is set to be a shrewd investment in the coming year.
The protocol operates as a multiplayer builder game where users can buy and own virtual islands, collect and build in-game items and make new friends. The game features a 3D gaming experience while adding the excitement of collecting NFTs.
To further propel the growth of NFTs and the subsequent metaverse, MyNeighbor Alice has launched an $80 million Metaverse Grant in collaboration with Chromia blockchain. ALICE is seeing slight bullish activities at press time and is up 9.92%% while trading at $13.09.
Read more: